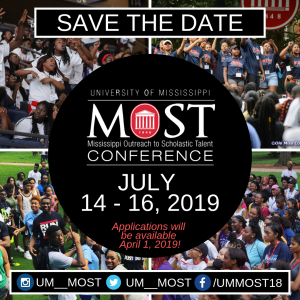 Save the date for the 2019 MOST Conference!
The 2019 MOST Conference will be held July 14-16th at The University of Mississippi! Applications will be available Monday, April 1st at 9:00 AM-Monday, April 15th at 5:00 PM.
Where can you find the link?
1) Students who have sent their ACT scores to UM will receive an e-mail.
2) All guidance counselors in the state of Mississippi will be receiving letters with registration information. 
3) The link will be available at https://admissions.olemiss.edu/.
4) The link will be posted on the MOST Conference Facebook page.
If you have questions, feel free to contact us at most@olemiss.edu. #UMMOST19