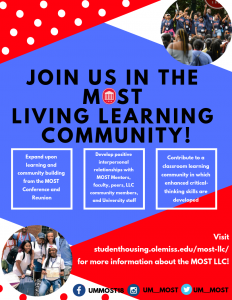 We are excited to announce the MOST Living-Learning Community will be opening in the Fall of 2019!
The Mississippi Outreach to Scholastic Talent (MOST) LLC provides a supportive residential experience that fosters academic and social success for students who attended the MOST Conference. The LLC adds an additional layer of community to help MOST students succeed in their transition to college.
To be eligible to live in the MOST LLC you must…
-have attended the MOST Conference
-complete the first part of your student housing application by paying the $75 non-refundable application fee with Mastercard or Visa. (Room selection priority is determined by the date and time that the application fee is paid.)
MOST participants will be able to choose rooms, when available, in the MOST LLC (located in Minor Hall) during part 2 of the student housing application process. Students who live in the LLC must have roommates who also attended the MOST Conference. Spaces in the LLC will be available on a first-come, first-served basis.
If you have any questions about the application process, please contact the Student Housing Marketing Assistants at 662-915-1091 or housingma@olemiss.edu. They are available to assist you 8am-5pm Monday-Friday.